Complaints
We make every effort to give the best service possible to everyone who attends our practice.
However, we are aware that things can go wrong resulting in a patient feeling that they have a genuine cause for complaint. If this is so, we would wish for the matter to be settled as quickly, and as amicably, as possible.
To pursue a complaint please contact the Patient Services Manager who will deal with your concerns appropriately. Further written information is available regarding the complaints procedure from reception.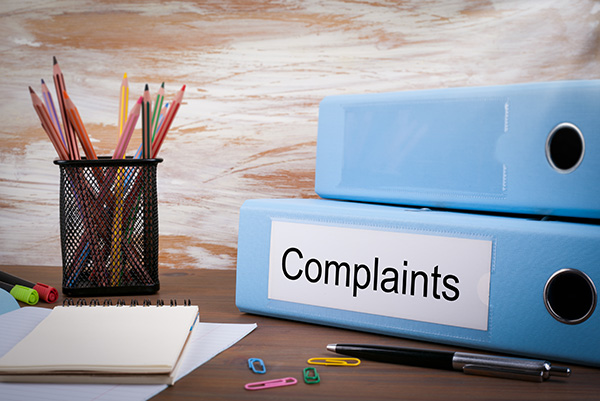 Complaints Procedure
If you have a complaint or concern about the service you have received from the doctors or any of the staff working in this practice, please let us know. We operate a practice complaints procedure as part of a NHS system for dealing with complaints. Our complaints system meets national criteria and Mrs Debbie Ryalls (Patient Services Manager) is the complaints manager. She will explain the complaints procedure to you and will make sure that your concerns are dealt with promptly. It will be a great help if you are as specific as possible about your complaint.
How to complain
Our aim at The Grove Medical Centre is to provide you with a high standard of medical treatment and care. We are keen to learn of any instances where you may feel we have fallen short of our aim. We hope that most problems can be sorted out easily and quickly, often at the time they arise and with the person concerned. If your problem cannot be sorted out in this way and you wish to make a complaint, we would like you to let us know as soon as possible – ideally, within a matter of days or at most a few weeks – because this will enable us to establish what happened more easily. If it is not possible to do that, please let us have details or your complaint within 12 months of an incident happening or of becoming aware of the matter complained about.
The 12 month time limit does not apply if the practice is satisfied that there were good reasons for not making the complaint within that time limit or that despite the delay, it is still possible to investigate matters fairly and effectively.
Complaints made orally and resolved to the complainant's satisfaction not later than the next working day are not included in these complaints procedures. Written complaints should be addressed to Mrs Debbie Ryalls, Patient Services Manager.
Complaining on behalf of someone else
Please note that we keep strictly to the rules of medical confidentiality. If you are complaining on behalf of someone else, the written consent of the person concerned will be needed, unless they are incapable (because of illness) of providing this.
What we shall do
We shall acknowledge your complaint within 3 days, either orally or in writing, and offer to discuss the matter with you. If you do not wish to accept the offer of a discussion, we will decide how to handle the complaint, based on the available information. A letter will be sent to you setting out how the complaint will be investigated and the expected timescales. We will aim to have looked into your complaint within 14 working days of the date when you raised it with us. We shall then be in a position to offer you an explanation, or a meeting with the people involved. When we look into your complaint, we shall aim to:
find out what happened and what went wrong
make it possible for you to discuss the problem with those concerned, if you would like this
make sure you receive an apology, where this is appropriate
identify what we can do to make sure the problem does not happen again
advise you of your right to take your complaint to an alternative body (see below)
We will provide a written response as soon as reasonably practicable after completing the investigation.
We hope that, if you have a problem, you will use our practice complaints procedure. We believe this will give us the best chance of putting right whatever has gone wrong and an opportunity to improve our practice. If you remain dissatisfied with the response to the complaint you have the right to complain to an alternative body. (see below.)
The link below takes you through to our practice leaflet.  This leaflet is also available in our waiting room and we welcome any comments or suggestions you have. 
/media/content/files/complaints/Complaints Patient Leaflet.pdf
If you wish, you can choose to complain to any of the following organisations rather than to the practice:
Parliamentary and Health Service Ombudsman:
By post: The Parliamentary and Health Service Ombudsman, Millbank Tower, Millbank, London SW1P 4QP
By email: phso.enquiries@ombudsman.org.uk
Website: www.ombudsman.org.uk
By telephone: 0345 015 4033
NHS Dorset:
By post: NHS Dorset, Vespasian House, Barrack Road, Dorchester, DT1 1TG
By email: customer.careteam@nhsdorset.nhs.uk
By telephone: 01305 368926
Healthwatch:
In person: at any Citizens Advice Bureau in Dorset, Poole or Bournemouth.
By telephone: 0300 111 0102
By post: Healthwatch Dorset, Freepost BH1902, 896 Christchurch Road, Bournemouth, BH7 6BR
By email via the webite: www.healthwatchdorset.co.uk
The Independent NHS Complaints Advocacy Service:
By telephone: 0300 343 7000 or email: referrals@dorsetadvocacy.co.uk
Via their website: www.dorsetadvocacy.co.uk
A free confidential service that advises and supports people who are complaining about the NHS. The service is independent of the NHS and is currently provided in Dorset, Poole and Bournemouth by Dorset Advocacy.
Independent Mental Capacity Advocate (IMCA) Resource:
By telephone: 0845 3891762
IMCAs are a legal safeguard for people who lack the capacity to make specific important decisions: including making decisions about where they live and about serious medical treatment options. IMCAs are mainly instructed to represent people where there is no one independent of services, such as a family member or friend, who is able to represent the person.
The Care Quality Commission:
By phone: 03000 616161
Via their website: www.cqc.org.uk
You can contact the CQC if you are unhappy with a service even when you don't want to make a complaint.
We use cookies to help provide you with the best possible online experience.
By using this site, you agree that we may store and access cookies on your device. Cookie policy. Cookie settings.
Functional Cookies
Functional Cookies are enabled by default at all times so that we can save your preferences for cookie settings and ensure site works and delivers best experience.
3rd Party Cookies
This website uses Google Analytics to collect anonymous information such as the number of visitors to the site, and the most popular pages.
Keeping this cookie enabled helps us to improve our website.