Social Prescribing
What is Social Prescribing?
People may visit their GP because they are feeling stressed about their work, money, or because they are lonely and isolated. The impact that these issues can have on our physical and mental wellbeing has been particularly clear during the COVID-19 Pandemic. But these problems cannot be fixed by medicine, or your doctor, alone.
Social Prescribing enables primary care staff working within your GP surgery, and local agencies to refer people to a link worker.
Link Workers give people time and will focus on what matters to the person, through shared decision making or personalised care and support planning. They work within teams collaborating with local partners, and attend training provided by NHS England.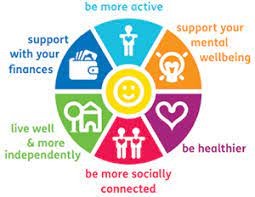 Social Prescribing Link Workers support the health and wellbeing of patients, connecting them to community groups and agencies for both practical and emotional care. Providing personalised support and health coaching to patients, their families and carers. Empowering them to maintain a healthy lifestyle, live independently, improving their health outcomes and wellbeing.
Social prescribing can lead to a range of positive health outcomes for people such as improved quality of life and emotional wellbeing. Examples include befriending, gardening, support with healthier eating, exercise, debt guidance and what's important for the patient's health and wellbeing. 
Providing opportunities for the patient to develop friendships and a sense of belonging, as well as to build knowledge, skills and confidence.
Taking a holistic approach, based on the patient's priorities and the wider determinants of health, including supporting people to take up employment, training and welfare support.
Working with local community groups helping them to be accessible and sustainable, encouraging people to start new groups.
Signposting patients to resources for help and advice.