Requesting a GP Appointment or Admin Query - Patient Triage by AccuRx

Patient Triage allows you to submit either a medical query or an administrative request to the surgery. This can include requesting an appointment, sick notes, GP letters, test results and repeat prescription requests. You can also ask a question or get an update about a referral you may have had. You are able to self-refer to physiotherapy services, Steps2Wellbeing and LiveWell Dorset and can access online advice via the NHS website.
From September 2023 ALL medical queries, regardless of whether you phone, email, come to the Surgery or use our online services will be triaged in the same way using this form. 
If you are able to fill this form in online rather than call us for a medical or administrative query or an appointment request, this will free up the telephone lines for those patients who are unable to do this and will also mean you don't have to wait in the telephone queue. We've compiled a list of FAQs for patients below.
 

What is Patient Triage?
We often get asked by patients what is meant by the term 'patient triage' and why is it used?
Simply, it is a clinical assessment by a GP or nurse using the information you, as a patient, have provided to us via a form or over the telephone to a patient services advisor, to prioritise your clinical need and provide you with contact from the best clinician (or administrator in some cases) to help you with your needs.
As demand is outstripping capacity in the NHS, it is a method used to ensure the patient is dealt with in an appropriate timeframe based on their clinical needs and those with the most serious needs are prioritised.  Hospitals have done this for many years in A&E and it has become a feature in some form in GP practices for about a decade.  As demand has increased, with capacity/resource stretched, the need to triage has become more necessary. Click below for more FAQs & an explanation of the process and why we need to implement it.
Please note, if your medical query is urgent then contact 111, or for a medical emergency contact 999
Click on the banner at the top of the page or the Contact us online button below!

Taking photos to attach to your Patient Triage form:
Please do not send us any photos of intimate areas, a statement of where the affected area is on the form is sufficient and if necessary you may be asked to come into the Practice.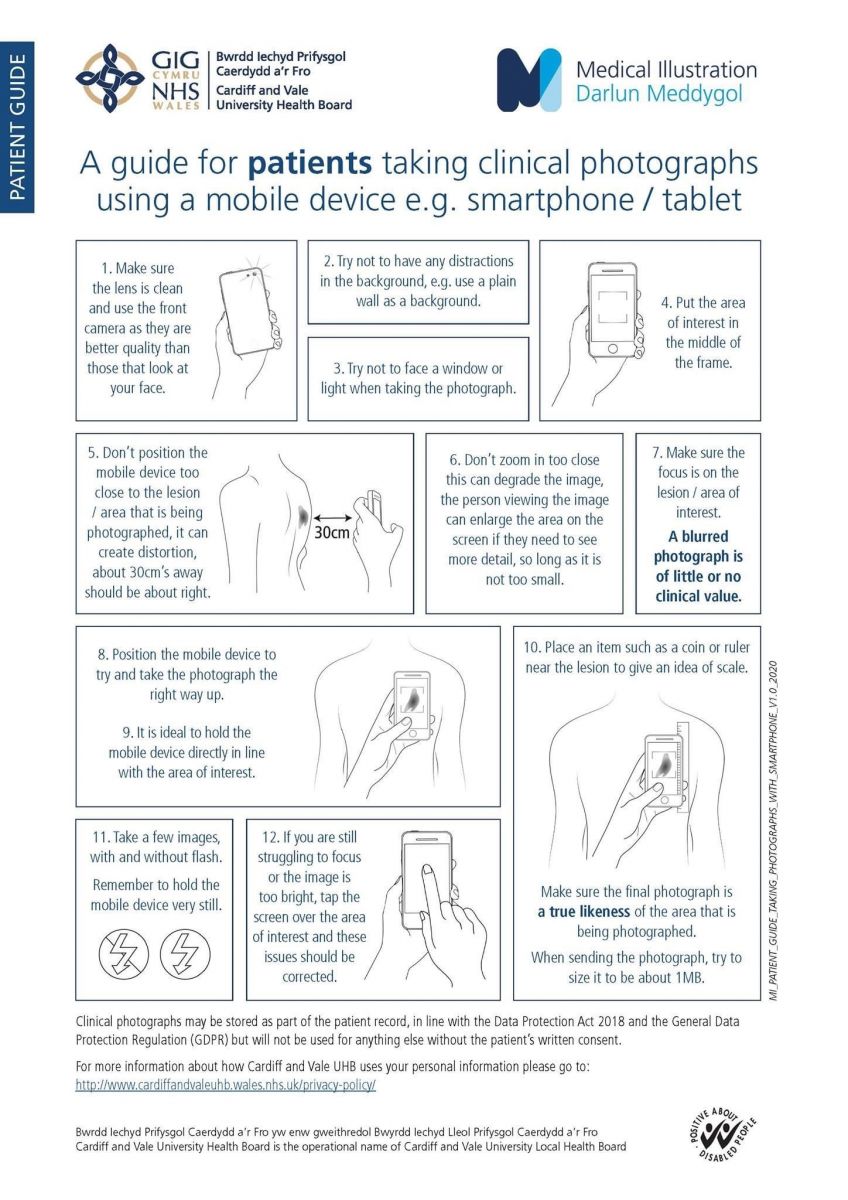 How does it help improve our efficiency?
If we have as much information up front about your condition, we can best manage your problem by utilising our staff most efficiently and in the quickest possible time. In some cases like sick notes or referrals, our administrative team can help out whereas for clinical queries either our Nurses or GPs could help.
Even if your online consultation resulted in a telephone or face to face appointment, because the clinician has all the questions and answers submitted from your online consultation, the subsequent appointment will be much more efficient as we don't have to ask all the questions again.
The system is online Monday to Friday during our opening times.