Coronavirus (Covid-19) Infection
We will collate all useful and up-to-date information regarding the coronavirus pandemic on this page. 
Our fantastic GP Dr Liz Long has featured in the latest Sherborne podcast talking about how we are dealing with Covid-19. Click below to have a listen.
Please see the link below for our latest update regarding the coronavirus infection
Update 01.04.2020: FAQs regarding the very high risk shielding group: FAQs-Patients.pdf
You can also use the link below to be taken to the NHS website page for the most up to date information
Coronavirus-covid-19 NHS website page
Childrens Coronavirus Fact Sheet -National.pdf
Easy to read guidance regarding shielding for patients with Learning Disabilities and other Vulnerable Patients   
A message from Dorset Council to patients who are shielding
Dorset Council have set up a community shield helpline for the public – this is available to all those qualifying for shielding under the government criteria of shielding for vulnerability, and for their carers and supporters.
Please contact us either by phone: 01305 221022  or email :communityresponse@dorsetcouncil.gov.uk
No problem is too small to ask for help with – calls so far have asked for meds delivery, pet food collection, an isolation phone chat, info on Govt. food parcels etc.
If you have any concerns or worries about your health, or delivery of your medication please get in touch with us. We are currently contacting patients to make sure that they understanding the term shielding and know what support they are able to get. We are also discussing any changed needed to care plans and checking that everyone is able to get their medication.
Easy to read guide to staying at home
Free Government advice:  https://www.gov.uk/government/news/government-launches-coronavirus-information-service-on-whatsapp
Anxiety and Coronavirus
We understand that this can be an anxious time, especially for patients who had pre-existing anxiety. The workbook below has been compiled as a useful tool to help anyone experiencing anxiety symptoms. Please have a look if you feel this may be useful for you.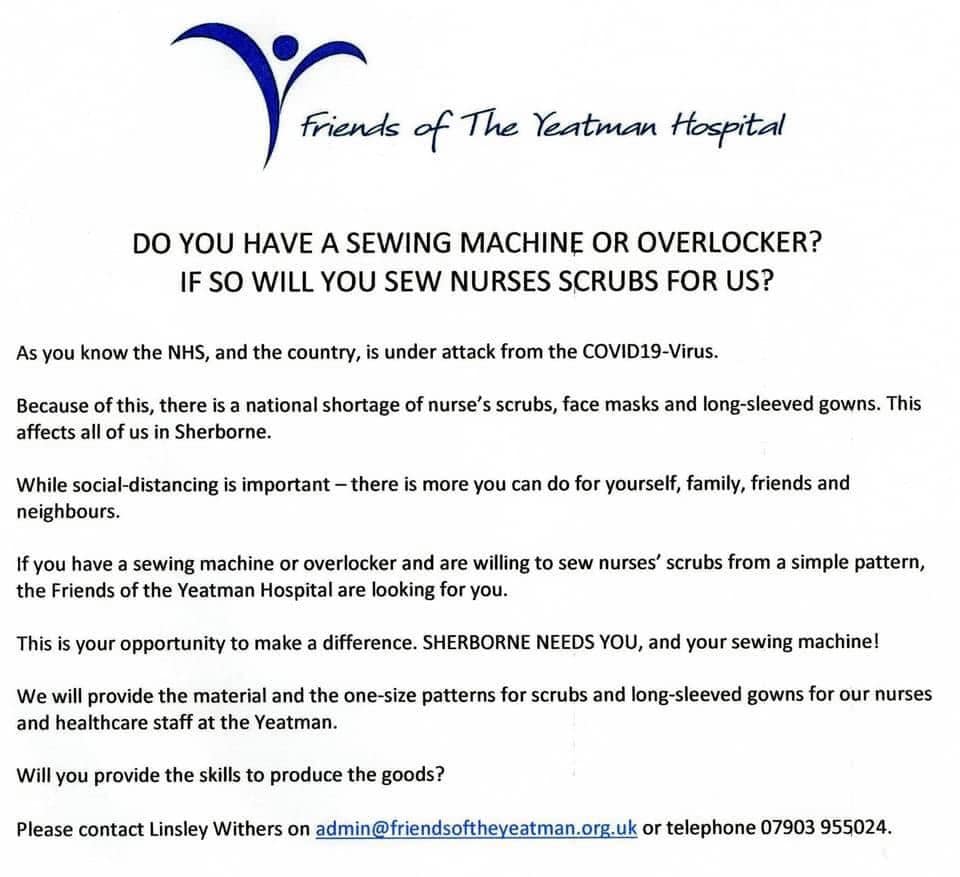 Prescription Advice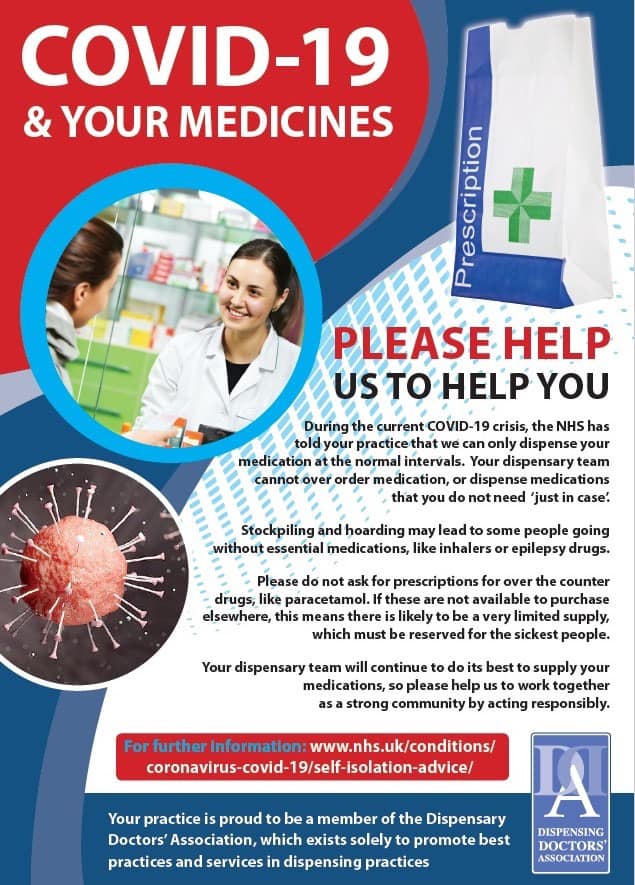 Prescription collection for shielding patients
We are using volunteers where possible to deliver prescriptions to patients who are shielding and do not have anyone that can collect their medication for them. For patients whose medication we have identified not to be suitable for volunteers to deliver (ie Controlled Drugs) we will deliver these ourselves. This is a temporary service only, whilst our most vulnerable patients are shielding.
 A useful explanation of what you should be doing if someone in your family gets sick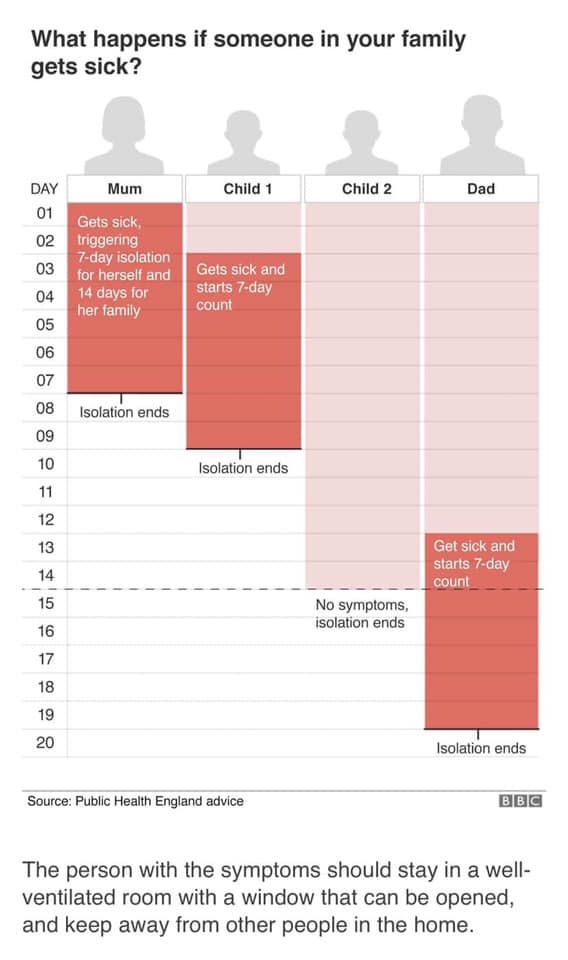 Incubation period = maximum 14 days
Day 1 is the first day of symptoms
The 14-day period starts from the day when the first person in the house became ill
If you live with others and you are the first in the household to have symptoms of coronavirus, then you must stay at home for 7 days
If anyone else in the household starts displaying symptoms, they stay at home for 7 days from when their symptoms appeared, regardless of what day they are on in the original 14-day isolation period.
Household members who remain well stay in self isolation for 14 days due to maximum incubation period, calculated from day 1 of first symptomatic person
Household members do not need to restart the clock if other members become symptomatic during the 14 days self-isolation

If after the 14 day isolation period has finished someone in the household becomes ill with symptoms, then the household should isolate again and the 14 day clock starts again. This is because the illness in the first isolation period may not have been covid-19.

You may have heard of ChatHealth over the last 2 years, an NHS School Nurse anonymous text messaging service, which was made available to all Middle and Senior Schools Pan Dorset from June 2017. The service is for young people aged 11-19 years old (year 7 and above) Pan Dorset and is part of a unique, multi-award winning NHS scheme, which has been highly acclaimed by students, staff and NHS officials for improving access to healthcare for a young audience.
During the current events relating to Covid-19 ChatHealth is still available for students to access Monday-Friday 8.30-4.30 (not Bank Holidays) , whether schools are open or closed, for any queries or concerns around emotional health, physical health, sexual health, family, exams, relationships etc
ChatHealth number - 07480 635511
Things to do whilst isolating: We've found some colouring sheets for your children (or yourself!) to enjoy:
Colour_me_Docs.pdf   Colouring-Sheet-1.pdf   Colouring-Sheet-2.pdf Colouring-Sheet3.pdf  Colouring-Sheet-4.pdf
Colouring-Sheet-5.pdf  Colouring-Sheet-6.pdf  Millie-Marotta-Love-NHS.pdf
Published: Mar 15, 2020